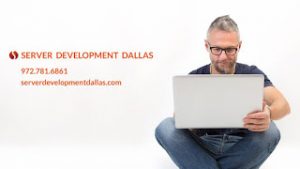 The Internet of Things (IoT) are devices which are networked together, often via the
Internet.  They are embedded with electronics, software, sensors, and network connectivity, and can communicate with a backend system to collect and exchange data.
"With IoT expansion everyone will need backend expansion and we have the expertise – we've been building custom solutions for 14 years – starting when an "app" was a 'productivity tool," said Eric Silverthorn, president of Server Development Dallas, an extension of the services provided by Semaphore Mobile.  "There really isn't anything 'new' about the process, everything old is new again … we've just never stopped doing what we do."
IoT devices can be used to connect to sensors that provide vital information for healthcare (remote patient monitoring), or the temperature of a refrigerated warehouse.  The use of IoT is vast with each use case enabling a user to collect valuable information that can provide data used to determine if systems are operating properly or not.
Data measured by IoT devices are most often sent to a server.  Custom server applications can allow a user to communicate with IoT devices.  Queries can be sent to an IoT device if necessary to obtain additional information or to provide a corrective action.  The custom server code may consist of a dashboard allowing the user to view IoT network status, and to monitor data.
"There isn't anything we can't apply IoT technology to – absolutely no limitations and it's something our team has more than a handle on," said Silverthorn.  "Our phones are ringing because the gadgets on the market are more readily available because the price-points have come to a place where people are putting out the networks.  We're thrilled to be putting the backend systems together to push through the deployment of the IoT devices.  Every day is a new day and it's exciting."
Server Development Dallas (serverdevelopmentdallas.com – 972.781.6861 ) provides custom IoT backend systems based on client requirements.